Mi nombre es Xavier López. Soy ingeniero de software enfocado en desarrollo web.
He trabajado para el ámbito universitario y empresarial. En los últimos años he emprendido diversos proyectos y actualmente dedico gran parte de mi día al proyecto Kuestiona, donde trabajo full-time como desarrollador web.  En mi tiempo libre, imparto cursos, practico yoga y programo.
Últimamente he tenido un interés creciente en el desarrollo front-end, especialmente en el apasionante ecosistema JavaScript. Uno de mis proyectos más utilizados actualmente, y citados en diversos libros, es el transcriptor fonético automático del español, disponible gratuitamente en linea.
Espero que disfrutes de mi blog. No dudes en dejarme comentarios en el idioma que prefieras.
Actualmente vivo en Barcelona aunque mi plan es llevar un tipo de vida nómada digital pronto.
---
[In english]
Hi! I'm Xavier Lopez, a passionate software engineer currently focused on web development.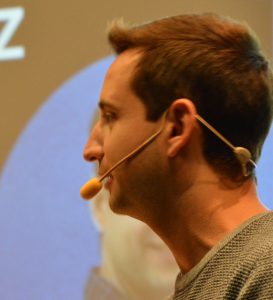 I have worked for a couple of universities and in the software industry. In recent years, I have undertaken various projects and currently dedicate a large part of my day to the Kuestiona project , where I work full-time as a web developer. I'm becoming increasingly interesed in front-end development lately, especially due to the exciting JavaScript ecosystem. One of my most popular projects (and cited in various books in Spanish) is the automatic phonetic transcription of the Spanish language, available free online.
I am currently living in Barcelona (Europe) although my plan is to become 100% digital nomad this year.
I hope you enjoy my bilingual blog. Feel free to leave me comments.
You can follow me on LinkedIn .